Ideal Proposal
Proposals to take significant advantage of PARADIM should implement a closed loop Materials-by-Design process involving theory, synthesis, and characterization on the path to discover novel materials. Individual elements of this MGI-based process can be accomplished either partially or in full at PARADIM. The way in which this will be accomplished should be clearly discussed in the proposal.
If preliminary discussions have been conducted with PARADIM scientists regarding the technical feasibility—highly recommended—safety, and instrument specifications, please reference these discussions.
Proposals should request access to specific PARADIM resources. PIs may request specific amounts of time (e.g., 1 month on furnace A and 2 weeks on TEM B), but these requests may be modified based on the proposal reviews and input from the PARADIM scientists.
The (full access) Lab Access Proposal should be limited to 2 pages, plus references. It should begin with the project title. It should conform to standard NSF font/margin requirements. (1" margins, 11-point Times New Roman).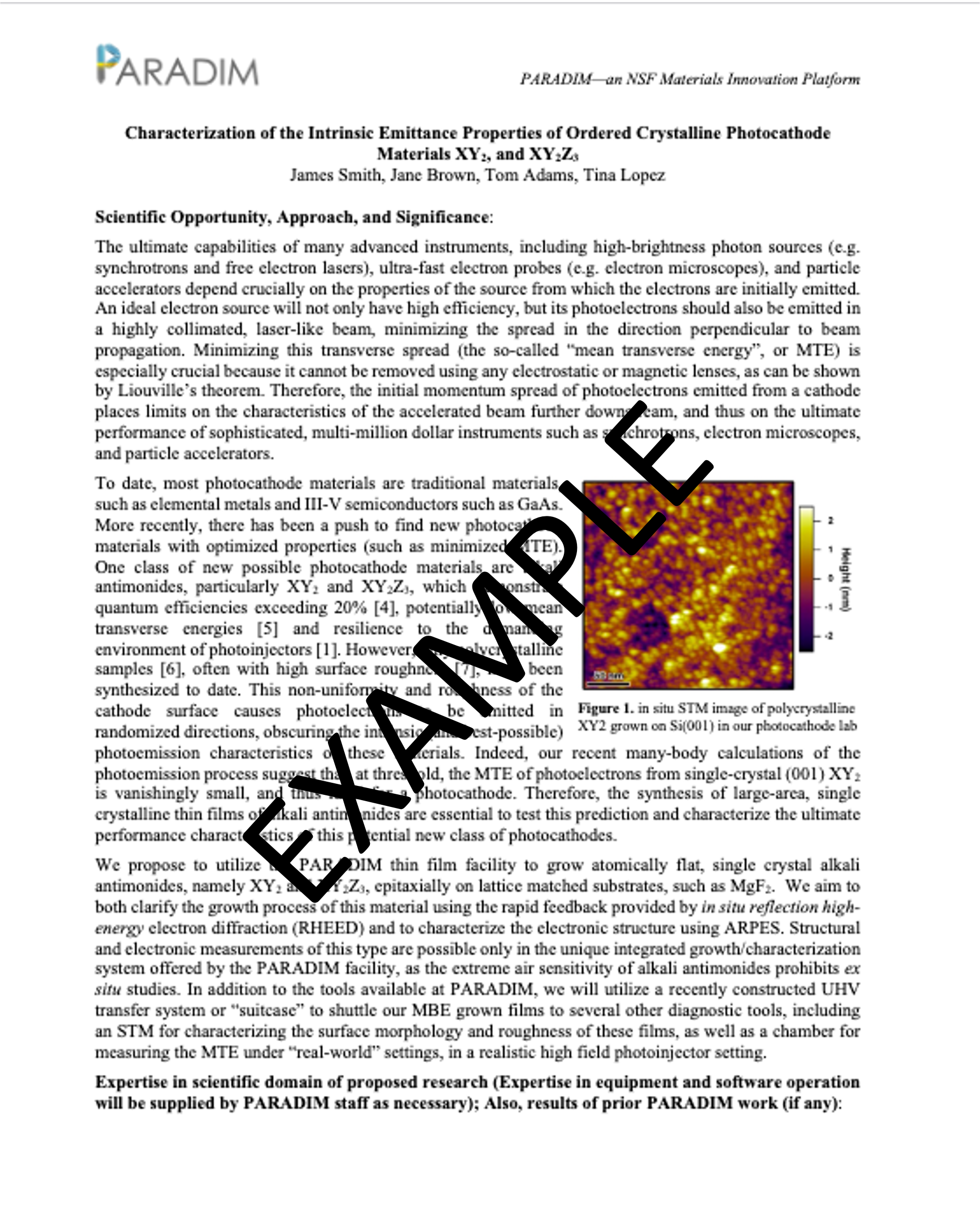 (Click image to see example Lab Access Proposal)
Handling of Proposals (Academic and Government)
PARADIM has implemented the following process to handle submitted User Proposals. The exact process keeps evolving as PARADIM gains additional experience and changing external factors have to be taken into account.
User proposals to PARADIM are received through the online Proposal Submission Portal. They are immediately entered into a custom on-line tracking database. PARADIM maintains a pool of 37 distinguished reviewers in the areas of thin film growth, bulk crystal growth, microscopy, and theory. If the proposal has not been vetted with PARADIM facility staff for feasibility, the proposal is first sent to facility directors/staff for a safety and feasibility review.
Proposals which are deemed feasible are then sent out for review. Each proposal is sent to three reviewers along with instructions and a review form. All reviews are tracked in the same integrated proposal/review database. PARADIM's goal is that all proposals be reviewed within 8 weeks. Each reviewer ranks proposals on a scale of 1 (poor) to 5 (superior). PARADIM's current threshold for proposal acceptance is an average score of 3.0. This threshold is expected to increase as PARADIM's user base grows.
To assure confidentiality, industrial proposals will also be reviewed internally.
Proposal Review
Review of PARADIM proposals will consider the following criteria:
Scientific merit and potential impact
Expertise in scientific domain of proposed research (Expertise in equipment and software operation will be supplied by PARADIM staff as necessary); Also, results of prior relevant PARADIM work by the user (if any) 
Suitability for PARADIM resources  
Alignment with PARADIM's scientific focus on Electronic Materials by Design  
Implementation of the Materials-by-Design process
Lab Access Proposals will be reviewed by at least 3 members of the PARADIM User Proposal Review Committee – well known materials innovators who are all external to the universities that constitute PARADIM. Proposers will be notified of the outcome of the review process within 6 - 10 weeks.
Proposals for feasibility test, Materials (Sample Only), and the KAvli-PARADIM program will be reviewed internally.
Allocation - Resource Alignment
Highly ranked proposals will be allocated time on specific PARADIM resources by the Associate Platform Director/Director of Facilities. Ranking may include additional criteria including preference for new PARADIM users, demographics, and users from non-R1 universities§.
"Renewal"
Successful proposals will not be renewed or extended nor will the resource allocation be expanded when expended. A single successful technical proposal will cover a period of up to one year or until the resource commitment is exhausted. At the end of that period, a new proposal may be submitted building upon the results of the prior project; it will be reviewed with consideration of the accomplishments in the prior period.
Confidentiality
The content of proposals (including proposal titles and the identity of the PI) will be held confidential within the PARADIM community (Technical Staff and User Proposal Review Committee). For purposes of safety, feasibility, resource allocation, proposals may also be shared with affiliated user facility faculty. Proposers may, however, opt out of this sharing and limit distribution within PARADIM. Title and PI identity may, however, be disclosed to the National Science Foundation as part of the normal reporting process. For approved proposals, PI and users' names may appear on equipment schedules/usage logs on site, but such information will not be otherwise disseminated.
Costs
PARADIM resources are free of charge to U.S. Academic Users based on approved proposals. In addition, travel support will be available to users from non-R1 universities. Industry will be charged for access based on cost recovery and their results will not be made publicly available (see Industry at PARADIM page  for related details). Non-US institutions will be charged for access at an intermediate rate and their results will be made publicly available as described below.
PARADIM Policy Reminders
Proposers are reminded of some of the policies that will govern their use of PARADIM:
Reporting: Independent of journal publication, projects will be required to submit brief annual reports or technical highlights for use in PARADIM reports to NSF.
Publication: Academic users are required to publish their results in a timely manner.
Acknowledgement: Users are required to acknowledge PARADIM in all publications and reports (e.g., "This work was supported by the National Science Foundation (Platform for the Accelerated Realization, Analysis, and Discovery of Interface Materials (PARADIM) under Cooperative Agreement No. DMR-1539918.").
Data Management: Upon publication or after 12 months of inactivity by the PI's research team in PARADIM facilities on this project, all supporting raw data, analyzed data, metadata, and process data in the PARADIM data archive will become freely available to the technical community. Please refer to the full PARADIM Data Management Policy.
Please consult the full PARADIM policy documents for more complete information on these and other requirements. 
§ Non-R1 universities are undergraduate institutions, non-tier 1 universities, and minority serving institutions. A list of Universities classified as "R1: Doctoral Universities – Highest Research Activity" can be found here: R1: Research Universities