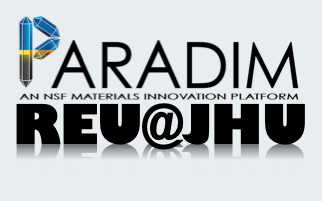 The PARADIM Materials Discovery REU is a Research Experiences for Undergraduates Site funded by the National Science Foundation. The 10-week summer program is designed to provide an intensive, mentored research experience for undergraduates, especially those attending institutions with limited research opportunities.
JHU PARADIM REU Program 2020
Program dates: June 1, 2020 – August 7, 2020
JHU PARADIM REU participants are integrated with highly aligned REU programs at JHU Homewood Campus where they participate in additional scientific enhancement opportunities including a professional development lecture series, social outings in Baltimore and Washington DC, and the Hopkins REU poster symposium with a diverse scientific cohort.  For 2020, JHU PARADIM REU interns receive a $5,909 stipend and up to $3,541 in qualified housing, travel, and sustenance expenses.
To apply to the 2020 JHU REU program, please send the following materials to paradim@jhu.edu.
Statement of interest
Resume
3 letters of recommendation
Individuals with interest in computation, programming, and materials are especially encouraged to apply.

Three Research Experience for Undergraduates (REU) positions are available at the Platform for the Accelerated Realization, Analysis, and Discovery of Interface Materials (PARADIM) facility located on the Johns Hopkins University (JHU) Homewood campus in Baltimore, Maryland.
Possible projects for this year include:
Project 1: Advancing Materials Synthesis in a National User Facility
The successful applicant will utilize the world-unique floating zone and data capabilities of PARADIM to carry out discoveries of materials relevant to applicable quantum materials (e.g., catalysts, topological Kondo insulators) research.
Project 2: Building the Materials Data Infrastructure
The successful applicant will further the design and implementation of a materials data infrastructure, to enable seamless collection and use of data from a range of experimental and theoretical techniques in materials synthesis to make data findable, accessible, interoperable, and reusable (FAIR).
Project 3: Machine Learning in Materials Discovery
The successful applicant will apply state of the art machine learning techniques to PARADIM data and metadata, to define and realize scientific use cases of these new techniques in materials discovery.
The PARADIM Materials Discovery REU program is open to U.S. citizens and permanent residents. To be eligible, applicants must be enrolled at a two- or four-year college or university. We especially encourage rising sophomores, students at community colleges or other institutions that have limited research opportunities, and "non-traditional" students (e.g., first-generation college attendees, veterans, older students) to apply.
Questions? Contact: Jasmine Harris, Program Administrator [email] paradim@jhu.edu