The PARADIM Bulk Crystal Growth Facility is located at Johns Hopkins University. Together with the thin film growth facilities at Cornell, it provides unprecedented capabilities for discovery of new materials and interfaces.
The PARADIM Bulk Crystal Growth Facility is the only facility within the United States where all major optical FZ techniques are available at a single site. In addition, it is the first location in the world to have optical floating zone capability at 300 atm.
Advanced capabilities include:
Halogen Four Mirror Optical Floating Zone Furnace,
Xenon Four Mirror Optical Floating Zone Furnace,
A tilting laser diode optical floating zone furnace (Tilt-LDFZ) – the first in the world to combine laser diode - heating with real-time control of laser source tilting,
The world's first high pressure optical floating zone (HPFZ) furnace capable of operations at up to 300 atm in inert and reactive gas atmospheres,
An Ultrahigh Temperature Vacuum Furnace with Bridgeman/CZ pullers,
A vertical furnace with Bridgeman/CZ pullers,
Real-time Laue for Sample Alignment and Cutting,
A high temperature induction furnace – capable of Bridgeman/FZ growth at MBE wafer scale (1/2"-1" diameter),
Spark Plasma Sintering Furnace (SPS),
Two high resolution, high dynamic range mass spectrometers for in situ chemical characterization during growth,
An inert-environment glovebox, and
Associated sample preparation and characterization facilities.
Some of these facilities are available via a cooperative agreement with the Institute for Quantum Matter; others are new and provided by the PARADIM cooperative agreement (PARADIM, DMR-1539918). In either case, they are available to PARADIM users through the PARADIM user program.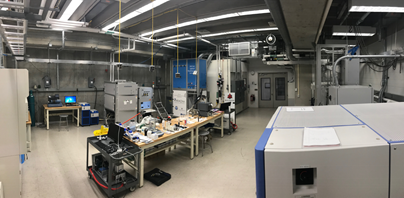 Video: Tyrel McQueen on Materials Discovery
Questions regarding PARADIM bulk crystal facilities and capabilities should be addressed to Dr. Mojammel Khan