The PARADIM Thin Film Growth Facility at Cornell provides unprecedented capability for the growth and characterization of thin films and interfaces of inorganic materials.
The signature tool is an integrated instrument consisting of an oxide MBE system and an ARPES system sharing a common ultrahigh vacuum connection. This tool builds upon the expertise of Profs. Shen and Schlom who were the first in the world to integrate ARPES with an MBE system for the growth of complex oxides. The PARADIM instrument extends this uniqueness a step further by being the first system in the world to integrate MBE with conventional or metal-organic sources (i.e., MOMBE) and ARPES in a single system. This combination brings the analytical power of ARPES to MOMBE-grown films, something that has never been done, and also enables heterostructures to be grown by a combination of conventional MBE and MOMBE. The interconnection allows materials to be created and investigated in any user-desired sequence among (MO-)MBE and ARPES. For example, a user may measure the electronic structure (using ARPES) of a bottom layer grown by (MO)MBE and subsequently the electronic structure of the interface material system created by adding a layer to it by (MO)MBE.
The (MO)MBE system has eleven sources that can be used simultaneously and changed/refilled without breaking growth chamber vacuum. Materials can be selected from any of the sixty-two different elements shown in color on the periodic table to the right. This gives PARADIM users unprecedented flexibility in exploring new materials by design. The ARPES system is based on prior designs utilizing major components from ScientaOmicron and Fermi.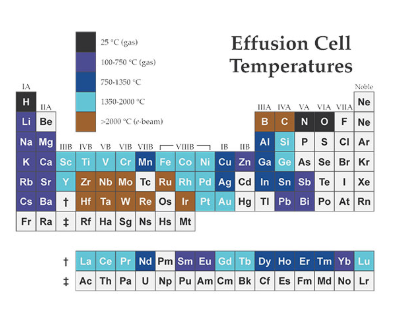 In addition to the integrated (MO)MBE+ARPES described above, PARADIM offers two MOCVD systems for the growth of "standard" transition metal dichalcogenide films. These systems are custom built based upon a design developed by PARADIM in-house research team member Prof. Jiwoong Park at the University of Chicago. The two MOCVDs are located in a fully renovated PARADIM laboratory designed for this purpose. They are being used by PARADIM staff and interns to grow samples for distribution to users, based on proven recipes developed in Professor Park's lab. So far, Professor Park's group has developed recipes for depositing single-monolayer thick films of MoS2, MoSe2, WS2, and WSe2 homogeneously over 4" diameter substrates. These films are available as SAMPLE ONLY proposals.
The new Cornell PARADIM Thin Film Facility is housed in over 1400 sq. ft. of newly renovated space in Duffield Hall, renovated at a cost to Cornell funds of greater than $2.75M.
PARADIM staff scientists for thin film include Dr. Hanjong Paik (MBE), Dr. Saien Xie (MOCVD), Dr. Brendan Faeth (ARPES) and Don Werder (MOCVD, in addition to microscopy). Please contact them directly for specific questions about capabilities and availability.